Centrally located in St. Charles, I can provide an affordable, timely and guaranteed repair to windshield cracks on any type of vehicle.
Different types of cracks require different methods of repair. I use top of the line resins for the specific break and current climate to ensure the highest quality and standard you'd expect to receive.
Your vehicle's windshield is a laminated glass – a material that helps keep a windshield intact as one large sheet when it breaks. Laminated windshields are made of two sheets of glass bonded with a layer of thin plastic film (poly vinyl butyral, or PVB) between them. The inner PVB layer adheres tightly to the glass layers, preventing broken shards from flying apart and causing injuries. One of the additional benefits to a three-layer windshield is that, should it get chipped, the damage often only happens to one layer – making small chips relatively easy to repair.
I can fix small cracks and chips in windshields by filling them with a strong, clear resin that bonds to the surrounding glass. The result is a smooth, inconspicuous surface that leaves almost no evidence of damage. I never drill into the glass because this can damage the lamination causing a cloudy white mess in your glass and it also leaves more evidence of a repair even when the lamination isn't damaged. If a 1/2 silver dollar to even a silver dollar can cover the break it can be repaired.
I can repair:
Bulls-eye
Combination breaks
Line breaks
Star breaks
Surface damage
My repairs are guaranteed for life and will restore your glass to almost new condition. I come to you to fix the crack at a time convenient for you, doing all work on the outside, never having to set foot in your vehicle. It can be very expensive to replace a windshield but not with Restora Glass.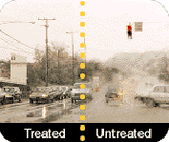 I also provide Aquapel Glass Treatments, which are made by PPG Industries, a leader in automotive glass products. This patented formula bonds to glass to repel rain and reduce glare to improve your visibility on the road. Other products can leave a silicone film on your windshield. Aquapel Glass Treatment forms a chemical bond with glass and serves as a long-lasting rain repellant that causes rain to bead up and roll right off the windshield. This improves visibility and reduces glare. The treatment lasts for months in normal driving conditions.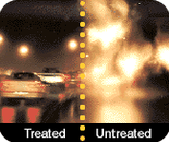 Contact me at (618) 604-5967 or [email protected] to put my windshield repair expertise to work for you.